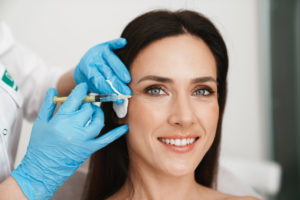 Over the last few years, BOTOX has become an increasingly popular treatment for people who want to achieve a smoother, more youthful appearance. And it's not just Hollywood celebrities that use BOTOX to make wrinkles disappear! According to the American Society of Plastic Surgeons, over 4.4 million BOTOX procedures were performed in 2020. Are you beginning to notice more fine lines around your eyes and mouth? Here are nine of the latest trends that have men and women eager to visit their cosmetic dentist for BOTOX in Annapolis.
1. 30th Birthday Botox
Are you counting down the days until you reach the big 3-0? You are more likely to see prominent frown lines or crow's feet emerge in your thirties. Not only can BOTOX injections relax any existing wrinkles, but they can also prevent new lines from forming.
2. Fillers for Acne Scars
If bad acne during your teenage years left scars on your face, a thin hyaluronic acid filler can help. This type of injection offers even distribution, making it an ideal way to fill pitted acne scars.
3. Jawline Contouring with Fillers
Many women and men want a more structured jawline and refined profile but don't want to undergo surgery. Jawline contouring with dermal fillers in Annapolis is a noninvasive way to achieve the desired effect.
4. Ultra-Glam Lip Augmentation
Ultra-glam lip augmentation – aka the "Kylie Jenner" look – is set to continue in 2022. This style of lip injection results in a full, pouty appearance, rather than a subtle enhancement.
5. Lip Injections to Increase Hydration
Lip fillers do more than just plump your lips. The most common filler substance, hyaluronic acid, can hold up to 1000 times its weight in water. This means that lip injections can also add significant moisturizer to your lips.
6. Fast-Acting Neurotoxins
If you want a quick refresh before a big event, ask your cosmetic dentist in Annapolis about Bonti, a new neurotoxin being developed by Allergan. Bonti is designed to produce faster results for a shorter duration.
7. Longer-Lasting Filler Treatments
For longer-lasting results, some patients are opting for fillers like Juvederm Volbella XC, which can enhance lips and smooth perioral lines for up to 12 months.
8. Therapeutic Botox Injections
Therapeutic injections are poised to be especially popular this year. A new study published in the journal Scientific Reports found that BOTOX injections may alleviate depression. BOTOX treatment may also prevent migraines by blocking certain neurotransmitters that carry pain signals from your brain.
9. Nonsurgical Rhinoplasty
Have you ever heard of a "liquid nose job"? Dermal fillers can conceal nasal imperfections, straighten the bridge, and lift a droopy tip, all without invasive surgery.
How a Dentist Can Help
If you are considering an injectable treatment this year, the easiest place to turn is your dentist's office. Many qualified dental professionals provide BOTOX treatment alongside other cosmetic dental procedures. Talk to your dentist today to learn more!
About the Author
Dr. A. Gary Goodman has over 40 years of experience serving dental patients in the Annapolis area. An active member of the Maryland Dental Association, he offers a full range of cosmetic treatments at his private practice, including BOTOX. To learn more about BOTOX in Annapolis, visit the Goodman Dental Care website or call 410-263-1919.