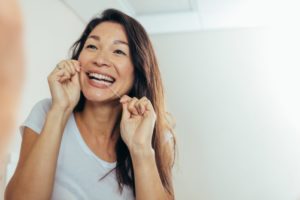 You may be surprised to learn just how important your gum health is to the rest of your body. Decades of research has shown that the same harmful bacteria that causes gum disease in Annapolis can lead to the formation of several serious medical conditions. These studies have emphasized the importance of practicing preventive techniques that not only keep your smile looking and feeling great, but also free of oral health problems. Read on for five actions you can implement into your daily life to ward off harmful bacteria and prevent gum disease from wreaking havoc on your body.
Thorough Daily Flossing
Sometimes, it can be tempting to skip flossing and go straight to bed after you brush your teeth. According to a survey conducted by the American Dental Association, eight percent of people said they never floss, 20 percent said they floss only when they have something stuck in their teeth, and only 16 percent said they always floss. This portion of your oral hygiene routine helps remove plaque and food debris that can't be brushed away. The best times to do it are after you have a snack, meal, or really any time throughout the day!
Regular Checkups and Cleanings
When you visit your dentist every six months for a checkup and cleaning, they'll inspect your mouth for common signs of gum disease like inflammation and sores on your oral tissues. Catching this condition early on is the key to treating and reversing the symptoms before they get worse. They can also provide you with periodontal therapy in Annapolis to help relieve your discomfort. In addition to a professional examination, your dentist can remove tartar, which you aren't able to do at home with a regular toothbrush.
Stopping Bad Oral Habits
Bad oral habits like smoking have been linked to the development of gum disease. Because it weakens your immune system, it makes it more difficult for your body to fight off infections, which is what gum disease is. In addition to this, smoking also gives you dry mouth. Without proper saliva production, harmful bacteria are left to accumulate and attack your gums and teeth.
Routine Brushing
It's important to brush for at least two times each day for two minutes. Food and plaque collect in your mouth and attract bacteria that can release toxins that cause inflammation, irritation, and bleeding. Without routine brushing, these toxins are left to get into your bloodstream and affect other areas of your body like your respiratory system.
Choosing the Right Oral Hygiene Products
To help fortify your tooth enamel and keep your mouth minty fresh, you'll want to use products like fluoride toothpaste and antibacterial mouthwashes. Plus, if you have sensitive teeth, receding gums, or any other oral problem that may be having you dreading your morning and nightly routine, there are specially crafted products out there for you. The best place to start your search is to ask your dentist for recommendations.
When you implement these five tips in your daily life, you'll be able to protect your gums from being attacked by harmful oral bacteria. Keeping your mouth healthy is a huge part of ensuring your overall health, making it more important than ever to visit your dentist for routine appointments!
About the Author
Dr. Gary Goodman has been serving his community of Annapolis with exceptional dental care since 1981. He enjoys taking care of family members of all ages and getting to watch as they grow into adults. He is also dedicated to advancing his education and has completed courses in implant prosthetics and endodontics. For questions or to schedule a routine checkup and cleaning, visit Goodman Dental Care's website or call 410-263-1919.