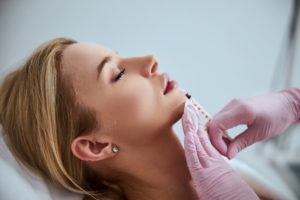 You can't wait for your next appointment with your cosmetic dentist. You're getting dermal fillers and look forward to seeing the results! While the treatment process has a high rate of success, you could have a temporary negative reaction, namely swelling or bruising at the sites. While your end of the procedure is pretty simple—you just sit still while the fillers are injected into your skin—you should know that there are things you can do beforehand to reduce your chances of experiencing these side effects. Read on to learn about five ways to prepare for dermal fillers!
Talk to Your Dentist About Your Medications
Some medications can exacerbate bruising, such as blood thinners. Even anti-inflammatory medications like ibuprofen or Advil can lead to more bruising. However, before you stop taking your medications, talk to your dentist and your primary care doctor to confirm that you can safely go off them for a few days. If they approve, you can avoid taking them for about a week prior to your injection and hopefully see less bruising. For over-the-counter pain relief, you can take Tylenol without affecting your treatment.
Tell Your Dentist About Your Medical Conditions
Do you have allergies to certain medications? Are you pregnant or breastfeeding? Are you prone to cold sores? This is important information to share with your dentist. Even though dermal fillers are safe for most people, there could be circumstances where treatment needs to be delayed, prepared for in other ways, or not happen at all for your safety.
Avoid Alcohol
Did you know that alcohol has a thinning effect on your blood? If you want to keep bruising to a minimum, you should abstain from drinking alcohol for at least 24 hours, but ideally you would go three days without it before your injections.
Stay Away from Salty Foods
Foods that are high in salt content tend to cause the body to retain water. As a result, swelling can become more common. For a few days prior to your appointment, try to reduce your salt intake to help manage this typical symptom.
Wait for Hair Removal
Perhaps as part of your makeover, you want to remove unwanted hair from your face. That's fine, but you should take care of it at least two days before getting dermal fillers or wait until after the dermal filler treatment has been administered. Chemical peels could cause irritation at the site, so be sure to tell your dentist if you are planning to get one.
With a little preparation, you can reduce the odds that you'll have a negative side effect from the dermal fillers. That way, you can simply enjoy the improvements they make and see the years disappear from your face!
About the Practice
At Goodman Dental Care, our father-and-son team, Dr. Gary Goodman and Dr. Jeremy Goodman, are proud to offer dermal fillers to patients in the Annapolis area and beyond. As experts in facial structures, they are uniquely qualified to skillfully administer these injections in a way that reduces possible side effects. If you are interested in getting dermal fillers, you may request an appointment online or call our office at 410-263-1919 to schedule a visit.