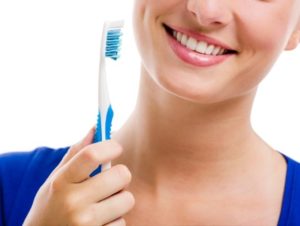 We live in uncertain times as we deal with the COVID-19 pandemic. Social distancing is the norm to combat the spread of the virus. While you keep your distance, wash your hands often, and avoid touching your face, you might wonder if there's more you can do to avoid COVID-19? Believe it or not, your oral hygiene habits can help keep the virus at bay while also preventing an unplanned trip to your emergency dentist in Annapolis. Here are 5 oral hygiene habits to implement to stay healthy.
1. Wash your hands before brushing your teeth.
COVID-19 is transmitted through the nose and mouth, which is why it's important to wash your hands often. Not only should you clean your hands after coming home from the store or after you've opened a door, but also before brushing your teeth. Make handwashing part of your morning and nightly routine before brushing and flossing your teeth.
2. Disinfect your toothbrush.
Your toothbrush is the most important tool you have to keep your teeth healthy. Unfortunately, it also hosts bacteria. Germs can thrive on it, which is why it's best to disinfect your toothbrush at least once a week. Soak the brush and handle in a 70% alcohol solution. You can even run your toothbrush through the dishwasher.
3. Rinse your toothbrush.
After every use, it's best to rinse your toothbrush with hot water. This helps remove germs and bacteria that were lingering in your mouth.
4. Store your toothbrush properly.
Many people store their toothbrush in a drawer, cabinet, or container to keep bacteria off it. Despite having good intentions, you're actually placing your smile at risk. Dark, damp areas are the perfect breeding ground for bacteria. Instead, it's best to store it in an open container. If you're storing more than one brush, be sure the heads aren't touching. Don't forget to disinfect the container regularly.
5. Don't share toothpaste or floss.
You can be infected with the virus for several days before you show any symptoms. If you share oral hygiene products, like toothpaste or floss, you could spread COVID-19, or it could be transmitted to you. Even if you or a loved one aren't sick, it's best to avoid sharing toothpaste or floss.
Keep Your Smile Healthy
Besides your oral hygiene habits at home, your smile also depends on the routine care you receive from your dentist in Annapolis. With many dental offices closed or under restrictions, it's essential you maintain your oral hygiene at home until you can see your dentist again. With the right habits, you can keep your mouth healthy while lessening your risk of COVID-19.
About Dr. Jeremy Goodman
Dr. Jeremy Goodman strives to provide family-friendly dental care that focuses on prevention. He's undergone advanced training in general dentistry to provide comprehensive services from one location. If you need urgent dental care during COVID-19, Dr. Goodman has the qualifications you can depend on. Contact our office today to schedule an appointment.