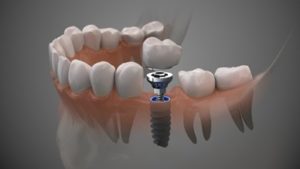 Dental implants are one of the most popular modern-day dentistry marvels. They are the only dental restoration that replaces a tooth's root, helping to preserve and protect your jawbone. But there are many misconceptions about getting dental implants in Annapolis. Keep reading to learn 5 interesting facts about this restorative treatment.
They Prevent Bone Loss
After losing teeth, the empty spaces in your mouth can cause the underlying jawbone to deteriorate and put your surrounding teeth at risk. Dental implants are the only tooth replacement that stimulates new bone growth and reduces the risk of additional bone loss.
They're Stronger than Natural Teeth
Not only do dental implants look like natural teeth, but they also are immune to dental decay. The "root" of the implant is made of titanium. They can be used to add fixed dentures, porcelain crowns and dental bridges, and they aren't at risk of shifting or becoming loose.
Implant Surgery is Considered Low-Risk
Dental implants carry a 95 percent success rate, but this can and will increase as technology advances. While age and poor bone health can cause this rate to decline, it is a relatively low-risk treatment. But patients without serious health issues are very likely to go through the procedure with no problems.
They Can Last A Lifetime
Dental implants are designed to last several decades, unlike so many dental treatments that have to be replaced in 5-10 years. While this restoration may be a bit more costly up front, there is no special maintenance beyond proper dental hygiene. You simply take care of dental implants in the same manner that you care for your natural teeth, making sure to brush twice a day and floss.
The Costs May Be Covered by Insurance
Most assume their dental insurance company won't provide assistance for procedures like dental implants, but that may not be the case. Your insurance may cover a portion or all of the treatment. In other cases, patients may be able to use both their dental and medical insurance plans. Another option is utilizing a third-party financing option through your dental office.
While dental implants can be relatively expensive, the benefits typically outweigh the drawbacks. Not only can they improve your ability to eat and speak, but they can also help restore your confidence. Your dentist in Annapolis can discuss this restorative treatment in more detail and help you decide whether dental implants are right for you.
About the Practice
At Goodman Dental Care, Drs. Gary and Jeremy Goodman are dedicated to providing each patient with customized dental care. This father-and-son practice offers a wide range of treatments to the citizens of Annapolis and the surrounding communities. Services include general cleanings and exams, dental implants, sedation dentistry and more. If you're considering getting dental implants, visit the website or contact the office at (410)263-1919 to schedule your appointment today.