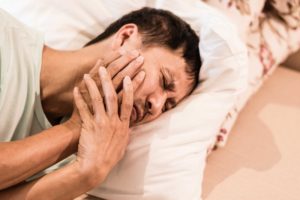 Dental issues are infamous for becoming more painful and severe the longer you leave them untreated. The sooner you visit your emergency dentist in Annapolis, the sooner you can relieve your pain and prevent further damage from occurring. There's really no such thing as being "too cautious" when it comes to seeking urgent care from your dentist, but there are some tell-tale signs that what you're experiencing needs immediate attention. Read on for four symptoms that you shouldn't ignore.
Irritated, Inflamed, and Bleeding Gums
If you notice that your gums are exhibiting a variety of uncomfortable symptoms, it's a sign that they're not as healthy as they should be. Irritation, inflammation, and bleeding are all early signs of gum disease in Annapolis, which impacts one out of every two adults in the United States. You're probably wondering how such a common problem could be considered an emergency. This condition progresses quickly and can lead to issues as severe as tooth loss when it's left untreated. When it's addressed early, you won't have to worry about it wreaking havoc on your overall wellbeing.
Swollen Gums or Mouth
Typically, swollen cheeks or gums are a common sign that you have an infection. Sometimes, it's accompanied by severe toothaches and sensitivity to hot and cold temperatures as well. When harmful oral bacteria have penetrated the inner chamber of a tooth (the pulp), it can result in extreme discomfort. When this issue is ignored, the infection can spread to other areas of your mouth and may result in you needing a tooth extraction. Seeking immediate attention to prevent additional pain and damage is vital if you believe you have an oral infection.
A Damaged Tooth
If you have chipped, broken, or fractured your tooth, it could leave your pearly white vulnerable to decay and infection. No matter how minor the damage may be or how much pain you're in, you should seek immediate attention to prevent the situation from escalating. Your dentist can repair the structure and strength of your tooth to keep your oral health in tip-top shape.
Painful Chewing
There are different types of chewing pains that you may experience like temperature sensitivity, stinging, or pain when you're biting down on something. All of these are reasons to visit your emergency dentist. Sensitivity can be a sign that your enamel has worn down, leaving your tooth at an increased risk of being attacked by harmful oral bacteria. Pain while chewing food may be a result of a damaged tooth. No matter what the source of your pain is, if you're having a difficult time completing basic tasks like speaking and eating, it's time to visit your emergency dentist as soon as possible.
If you're experiencing any of these signs or symptoms, don't hesitate to contact your emergency dentist as soon as possible to schedule an appointment. They can provide you with fast relief and prevent any additional damage from occurring down the road.
About the Author
Dr. Jeremy Goodman has completed a general dentistry residency at the University of Maryland as well as numerous additional courses that have introduced him to using the latest technology in the dental field. He is passionate about treating patients of all ages and providing families with a welcoming and comfortable environment to receive high-quality dental care in. For questions or first aid assistance for a dental emergency, visit our website or call 410-263-1919.