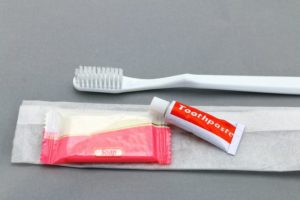 You've toiled through the cool weather of fall and the bitter cold of winter. Now spring has arrived, the sun is shining, and it's time to hit the open road for a mini vacation. Since you've been more diligent about stepping up your oral care, you're planning ahead by purchasing a travel-sized tube of toothpaste so that your ivories will be clean. You're wondering, though, how long will it last? Your dentist in Annapolis weighs in to answer that question so that you can maintain excellent oral health while you travel.
Map Out a Plan
In your quest to predict how much toothpaste you'll need for your trip, here are a few things to take into account:
How long will your trip be?
How often do you plan on brushing your teeth daily?
How often are you planning on eating each day?
Let's Do Some Math!
Once you establish the above information, you can then start to work on the numbers. Let's begin with establishing some constants:
Amount Used Per Brushing – You only need a pea-sized amount on your toothbrush to properly clean your teeth, which amounts to roughly .01 ounces. If you are a person who usually squeezes out enough toothpaste to span the length of your bristles, you'll probably end up doubling the amount of usage.
More Bang for Your Buck – By following the recommendation of using .01 ounces of toothpaste and brushing with the minimum suggested frequency of twice a day, a standard .85-ounce tube of travel-sized paste should last for 28 days.
Covering the Bristles – If the recommended pea-sized dab doesn't leave you feeling secure enough about your oral hygiene, and you choose to cover the bristles with toothpaste, you can expect your supply to last for only 14 days.
Keep in mind that although it may be easy to run into a store to purchase some more toothpaste while you're traveling, if you prepare properly and use a correct amount, you won't have to worry about inconveniencing yourself. After all, you've waited for months for a vacation, and you want every moment to be filled with enjoyment, not driving around town looking for a drugstore.
Another factor to consider is that depending on where you're traveling to, running into a store to buy some toothpaste may not be as easy of a task as you may think. If you're staying in a more rural area, for example, you may find the distances between stores are vast and take planning to travel to for necessities. The last thing you want to be stuck with is offensive breath and soiled teeth.
You're Licensed to Have Fun!
By planning ahead and taking the more conservative approach to using your toothpaste, you'll be able to enjoy yourself with a level of comfort and ease while on vacation, leaving you with a collection of timeless memories to cherish!
About the Author
A graduate of the University of Maryland School of Dentistry, Dr. Gary Goodman has had the privilege of helping patients achieve healthier and more appealing smiles for over 35 years. He offers expert and compassionate care at Goodman Dental Care and can be reached for more information through his website.